Caffi Fron Goch
YN SYML BWYD DA
Caffi Fron Goch

yn syml, bwyd da
Caffi â dros 100 sedd gyda ardal teras, yn defnyddio cynnyrch lleol ffres o ansawdd.

simply good food
Caffi Fron Goch is a 100+ seated cafè with terraced area and prides itself on using quality fresh local produce.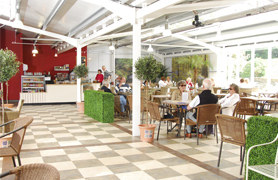 BRECWAST / BREAKFAST tan / til 11:00am

Bacon Sandwich / Toastie £2.50
Bacon & Egg Sandwich / Toastie £3.00
Cooked Breakfast £3.95
2 rashers of bacon, fried egg, cooked cherry tomatoes, Heinz Baked Beans, 2 slices of toast
DIODYDD / DRINKS

Filter Coffee - coffi arferol masnach deg fair trade regular coffee Regular £1.25 Mug/Large £1.40
Latte - epresso hefo llefrith poeth espresso with hot milk £1.65 Large £1.95
Vanilla Latte £2.00 Large £2.35
Americano - coffi cryf du strong black coffee £1.65 Double shot £1.95
Cappuccino - espresso hefo llefrith wedi chwipio espresso with frothed milk £1.65 Large £1.95
Mocha - siocled poeth hefo espresso hot chocolate with espresso £1.80 Large £1.95
Espresso - byr a cryf short and strong £1.25
Decaffinated versions of the above also available / Mae coffi heb gaffine ar gael o'r uchod
Tea - te 'premium blend' pot i un premium blend pot for one: £1.35
Tea Varities - Fruit teas / Peppermint / Green Tea / Darjeeling / Decaffinated / Earl Grey £1.45
Hot Chocolate Siocled Poeth £1.95 hefo hufen ar ei ben with cream on top £2.15
Selection of refrigerated cold drinks, please help yourself
PANINI, TOASTIE, & TORTILLA FILLINGS:
Cheese & Tomato Fresh Pineapple & Cheese
Ham & Fresh Pineapple Roasted Peppers & Cheese
Parma Ham, Roasted Peppers & Cheese Brie & Cranberry
Parma Ham, Brie & Cranberry Mozzarella & Roasted Peppers
Mozzarella, Tomato & Pesto Cheese & Onion
Goats Cheese & Caramelised Red Onion Relish. Ham & Cheese
Sandwiches £3.75
Freshly made sandwiches to order, served with a side salad and crisps. Choose between white or wholemeal bread with any
of the following fillings; Cheese & Tomato | Cheese And Branston Pickle | Cheese & Onion | Ham and Tomato
Egg Mayo With Cress (Welsh Free Range Eggs) | Ham | Tuna Mayo & Cucumber.
Children's Lunch Box £2.95
Orange or apple juice carton, chocolate bar or yogurt, half a round of sandwiches, on white or brown bread with any of the above fillings or jam, with crisps on the plate.
Children's Beans on Toast. One round of toast with Heinz Baked Beans. £1.95
Toasted Sandwiches £3.75
Choose between white or brown bread with any of the fifi llings below. Served with a side salad.
Toasted Tortillas £4.75
A toasted soft flfl our wrap with any of the fifi llings below. A tasty 'low carb' alternative to a Panini. Served with a side salad and
homemade coleslaw.
SIMPLY GOOD FOOD
Caffi Fron Goch Statistics: 65 click throughs, 5214 views since start of 2022
Eat
Cafe

in

Caernarfon

,

North Wales
Opening Times

LLUN MONDAY 9.30am - 5.00pm -
GWENER FRIDAY 9.30am - 5.00pm
SADWRN SATURDAY 9.30am - 5.00pm
SUL SUNDAY 10.00am - 4.30pm

Contact Details

Caffi Fron Goch

Owner/Manager: Melanie Williams

Pant Road,

Caernarfon

Gwynedd

LL54 5RL

UK.

Our Website

News & Special Offers